Searching Erskine


"Searching Erskine: on art, ancestry, and place
"…when the over and done with comes alive, when the blind field comes into view, when your own and another's shadow shines brightly"
Avery Gordon, Ghostly Matters (Minnesota University Press, Minneapolis, MN), 197.
This exhibition explores how art connects us to ancestry and place through a complementary series of works that respond to the uninhabited tidal island of Vallay, North Uist. It will launch to coincide with the release of Arun Sood's 12 track album and book Searching Erskine, released in 2022 by Blackford Hill Audio in association with Random Spectacular; with visual artworks on display by Meg Rodger, Emile Kees, and Rosalind Blake."
Read more in the Taigh Chearsabhagh archive here.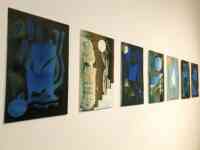 Writer and musician Arun Sood invited me to respond to his project exploring the tidal island of Valley, off the north coast of North Uist.
My response - Meshings, Vallay - is a series of two-plate monoprints with digital additions. This work reflects on the experience of Vallay as a space of layered history: both human and non-human. Formal elements draw on the architectural, aesthetic, and experiential qualities of the tidal island, while colour and movement communicate the ineffable sense of flow, flux and rhythmic fluidity. Gazing skyward through a shattered roof to a sky of infinite cerulean, memory, narrative, and sensation imbricate to form an experience of place.