NORTH AiR: Expanding Entanglements
A residency exchange programme between Scotland and Finland, 2019 - ongoing.
The project directly questions the environmental impact of artist residencies, fostering long term enquiries into the role and responsibility of artist residency centres within the ecological crisis, with a transdisciplinary approach.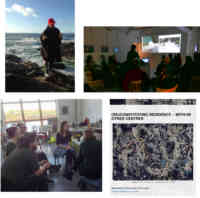 I was an organising partner in this project. In this role I was responsible for community engagement and pedagogical inquiry.
These concerns, as both material and thematic inquiries are iterated throughout my own practice and highlight the curatorial rationale I brought to this programme.